What is Cloud Combine?
Cloud Combine is a browser, explorer and manager for the cloud services.
Are you putting your application to the cloud? Or maybe need to host large sets of media files on Windows Azure, Amazon AWS or Google Cloud?
Probably you already got a bitter taste of cloud services: they are black boxes.
Yes, services are there. APIs work. Still, they are not very reachable by a human.
Cloud Combine makes you a pro on steroids. You can now access the cloud gears and get the job done.
Just see it in action
Why Cloud Combine is good?
✓

Easy file transfers. Just like within a folder on your PC

✓

File versioning

✓

It is tactile

✓

Made for human beings

✓

Made with great care and love

✓

All-in-one. You get everything we can offer, for a fixed price
Bring tactility to the next level
Mouse is not the single option. Keyboard brings a faster way of operating with files when it comes to two panels: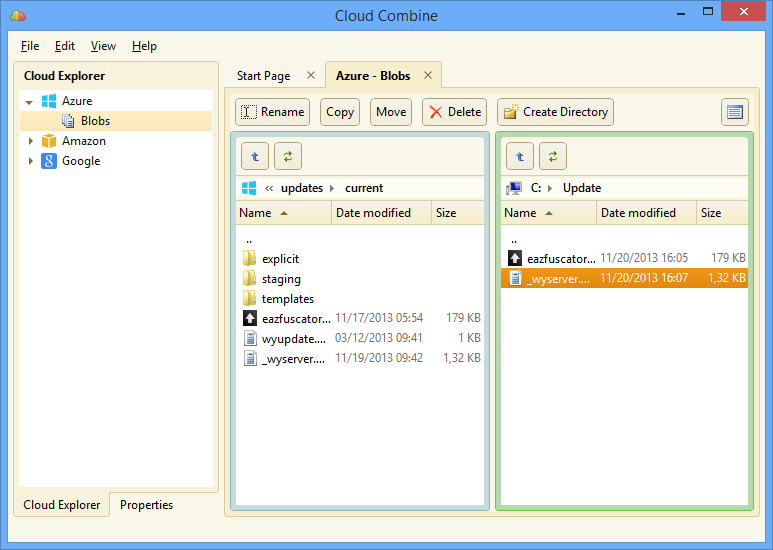 Just use , Page Up, Page Down, TAB and Enter for navigation. F2, F5, F6, F7 and F8 for operations.
It takes some time to get familiar but once you do, you'll be rewarded with a boosted productivity.
Looks easy?
Right. That's what we try to achieve. Let's be honest, there are tons of noisy, mediocre offerings for S3, Azure and Google.
Cloud Combine is different. You have the power of full-featured IDE under your fingers. Still you see and use simple concepts and screens. It just works the way you expect.
They say "Azure Storage Explorer", "Amazon S3 Browser" or whatever. We proudly say "IDE for Cloud Services"!
What's next?
Or read more about the features.